Adweta Mahat sits down across from me smiling, hot cocoa in hand. Her crystal earrings dangle in the wind and she takes out her headphones. You can assume she's listening to Taylor Swift. She has a calm, gentle, and graceful presence about her. She is a second-year student here at Jacobs studying International Relations: Politics and History (IRPH) with a Global Economic Management (GEM) minor. 
Born and raised in Kathmandu, Nepal, Adweta grew up with her parents, her older brother, a maid, two dogs, and tons of cats. Her parents were somehow always around in her childhood despite having full-time jobs and she got along well with her brother. Even when she was alone, she never felt lonely. 
"I had a really, really good childhood. I was so happy and my parents really did everything they could possible to make me feel like I had everything. I was a quiet but extremely observant child. I liked my alone time. I had my little space at home, like a fort, and I would go up there with my books. Every morning, the sunlight would shine through my window and I used to sit there writing and drawing."
Her community was very multicultural and her friends growing up were from the Netherlands, England, Australia, Brazil, and Nepal.
"My parents did a wonderful job at finding me a good school. It was an international school and I think that's where I get my love for being around people from diverse backgrounds. I grew up with a lot of nationalities living around me."
Her native language is Nepali and she has always been taught in English, but she also speaks many other languages. She learned Hindi from movies and TV, Spanish from school, and now speaks German as well. She completed her International Baccalaureate degree before coming to Jacobs and had an excellent mentor.
"One that actually made such a big impact was my anthropology class because I think the way I think, the structure of my thinking, is completely based on this teacher that profoundly changed my worldview. His professors had really challenged him and he tried to do the same to me. He saw a lot of potential in me. I was always the quiet kid in class but he still probed me to answer questions and to think about anthropology, society, and culture."
Adweta first heard of Jacobs by word of mouth, as there is a strong Nepali community on campus. It became a more clear option when her boyfriend got into Jacobs and came to attend classes in the fall semester. She still had to do her own research before applying, but was convinced by the financing options Jacobs offers. So, she arrived on campus a semester before her degree was scheduled to begin in the spring of 2020. With the guidance of her academic advisor, she dabbled around in various classes to find her interests.
She actually started as an SMP (Society, Media, and Politics) major but felt that it was too similar to some of the classes she'd previously taken like anthropology, so she wanted to branch out and try something new. After talking to her professors about her career goals at the time of being an intelligence analyst or diplomat, she began taking IRPH and GEM classes. 
"I enjoy IRPH because it's so multidisciplinary. It can be so theoretical but it helps me put everything into perspective and understand the world better. Going into this renewable energy sector, I think GEM is the way for me to go without getting too technical. I think economics is really interesting." 
Her favorite class thus far has been International Resource Politics.
"That was the first time I saw resources explained as such an important role in politics and not just after the world war but before, it shaped a lot of geopolitics. I saw this world through a very new lens where everything revolves around the pursuit of resources. That's why I want to go into a career that involves renewable energy now and I think it was solely because of that course,"
Now, she is the teacher's assistant for the professor of International Resource Politics in another one of their classes, a Big Questions course entitled, "The Challenge of Sustainable Energy."
She attends classes, prepares for guest speakers, and creates quizzes and presentations. You can also find her in the Housing Department every Tuesday, where she works as a student assistant doing room inspections, working with the Mercury software platform, answering emails, and working with her team.
This month, she saw months of hard work come to fruition at the Jacobs Start-Up Competition, where she was the head organizer of the mentor management team. Mentors and start-ups come from all over the world so Adweta's team facilitated their communications for months in advance. She interviewed over 30 mentors to be in JSC over the summer. Mentors help the competing start-up finalists refine their skills and prepare for the final event where they pitch their business idea.
"The start-ups that I asked seemed really, really happy with their mentors. I also got to meet some of them when they came here. It was so wonderful. What surprises me is that this is a completely voluntary thing but there were so many people that really wanted to come forward and help although they have full time jobs. That to me is proof that people do have the best intentions and are coming from a really good place."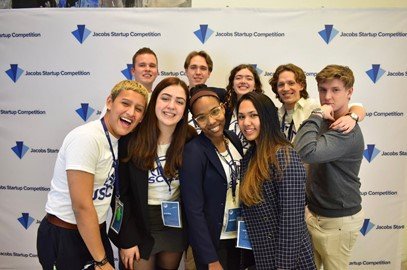 In her free time, she likes to read, write, and sing. When asked her favorite book, she refuses and says every book she reads is her new favorite book as long as it's fiction. Her favorite place on campus is Campus Green.
"I have a lot of good memories there like going on walks with friends, having deep conversations and confiding in people, drinking coffee with friends, watching the sunrise, having parties there. I have all the best memories at Campus Green."
The future is bright and limitless for Adweta. After graduation, she hopes to get some experience in the job sector and ideally travel as well. She would like to live in either Hamburg or Berlin at some point. Then, she plans on continuing into graduate education in Europe, likely in Germany. Adweta hasn't fully decided on what degree she will pursue next but she has interests in resources, public policy, and urban planning.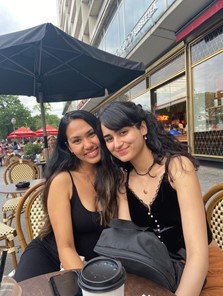 "I'm so indecisive. Right now, I really like the idea of urban planning. I like the idea of creating these spaces for people to connect. Industrialization takes that away from people. Public spaces, the way you structure your streets, where you build your house, that's all very interesting to me as that can really change human dynamics and everyone's relationships for a decade or even the entire century."
Adweta closes our conversation by saying how glad she is to be here and how much she loves Jacobs. To incoming and current students, she offers this advice:
"Try to get involved in a lot of things, that's where you make a lot of friends. That's where I've built a lot of connections that I know will be in my life in the long term. Just try to explore as much as you can, you're young and you have time. Don't be afraid to go out of your way to ask for help from professors, from students, from anyone. Everyone really has your best interests in their hearts so just assume that everyone's coTwitterming from a good place."
BY KENNA ROSALIE HOWORTH (USA) | CLASS OF 2023
Image