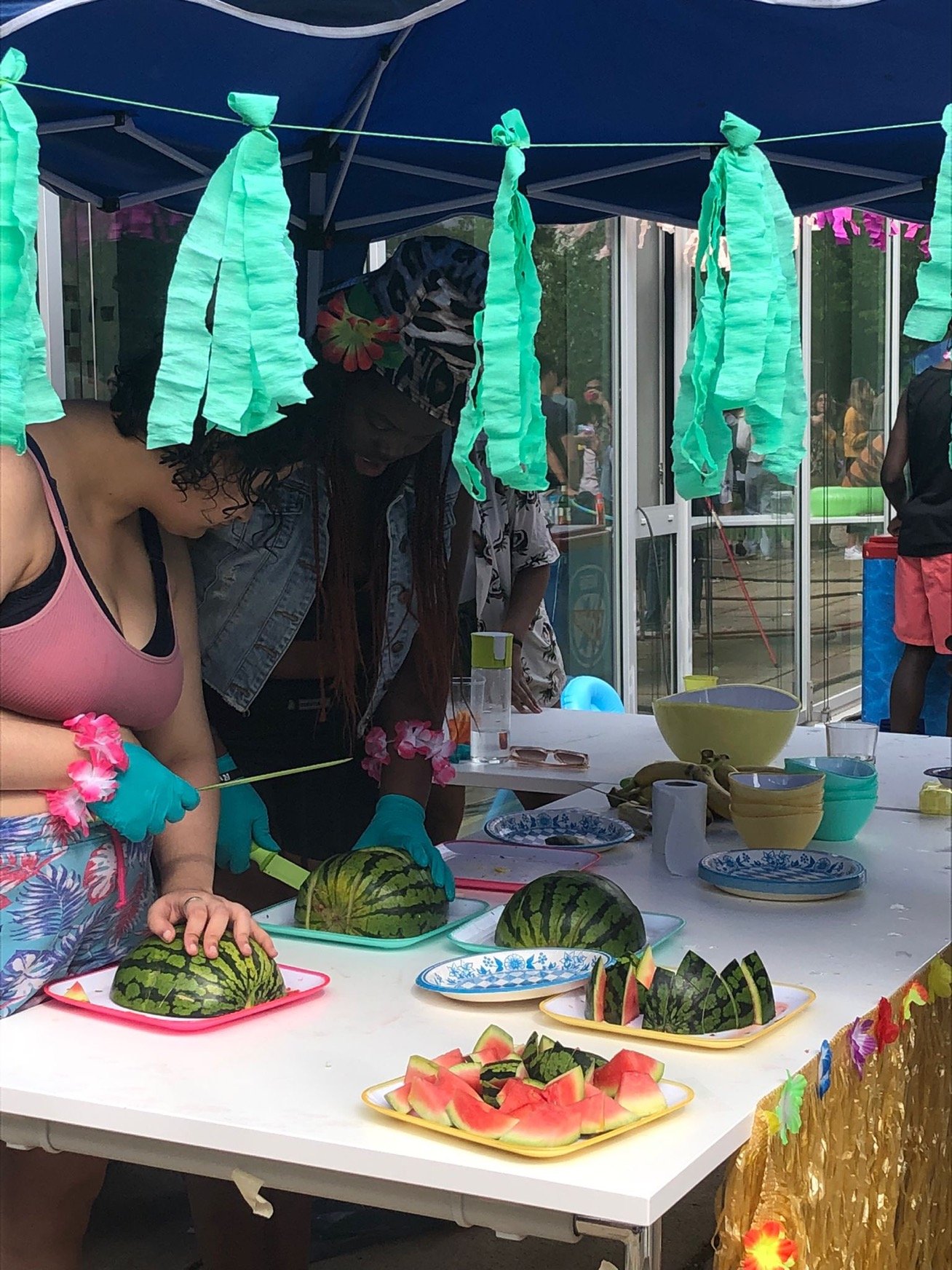 On Saturday, May 7, 2022, Mercator hosted the long-awaited revival of the Mercatorstraße party! What a perfect break in between studying for exams. There were tropical drinks and water splashing in every direction. Mini pools were set up for swimming and students from every college all came together for an afternoon party.
I spoke with Bruno Moreira, who is finishing up his last semester working for the Mercator College Office to get the inside scoop on how this event was set up. He is a second-year student from Brazil, majoring in International Relations: Politics and History (IRPH) with a Global Economics and Management (GEM) minor. In the fall of 2022, he will study abroad at the Hebrew University of Jerusalem. After Jacobs, he plans on getting a Masters degree more related to business.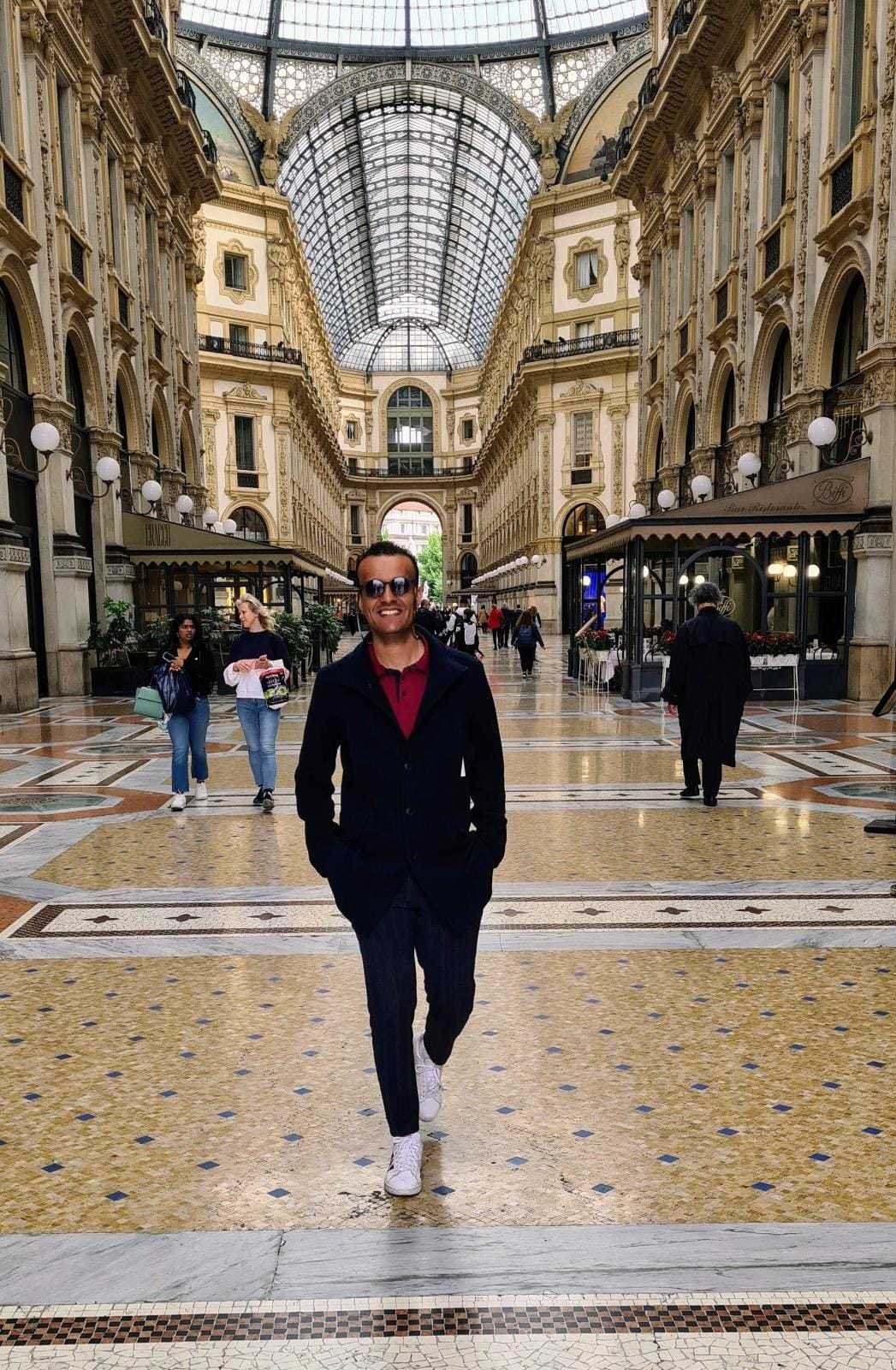 Bruno started working at the College Office in March 2021 to get more involved with the Mercator community during the pandemic. His main job was hosting office hours, in which students can come by to get cleaning supplies, ask questions, or just hang out. CO members each have two office hour shifts per week, once in the afternoon and once in the evening. He also helped out with the planning of events like Mercatorstraße, which unfortunately had been unable to take place since 2019 due to the pandemic.
"Each college is in charge of two special events during the  year. Mercator is in charge of Oktoberfest and Mercatorstraße. Mercatorstraße is an event with a street on which people can walk and do different activities. Every one of us who prepared the event, except for the resident mentor Adilah, had no idea what the event was all about. We checked out a few pictures, but still we did not really grasp it, so we built it from scratch. I think the end result was very nice," Bruno said.
This year, the theme of Mercatorstraße was all about water. It certainly lived up to its name – nobody walked away dry. Water guns were going off in every direction, along with people being tossed into the pools by their friends. The previous Mercatorstraße was all about Holi and paint wars.
"I am the oldest member of the team. This time, we had a different dynamic because we just hired four more people and we wanted them to get a greater responsibility. Gabi did a really good job planning the whole event and dividing the tasks, what each one of us was supposed to be in charge of. I was in charge of the music and the whole sound system. Coming closer to the event itself, it takes a lot of teamwork, especially the decorating. The day before the event, I spent all day here in the CO preparing," Bruno explained.
The Mercator teams' hard work certainly paid off– the party was a perfect way to enjoy the sunny weather and see everyone before the hectic finals study season.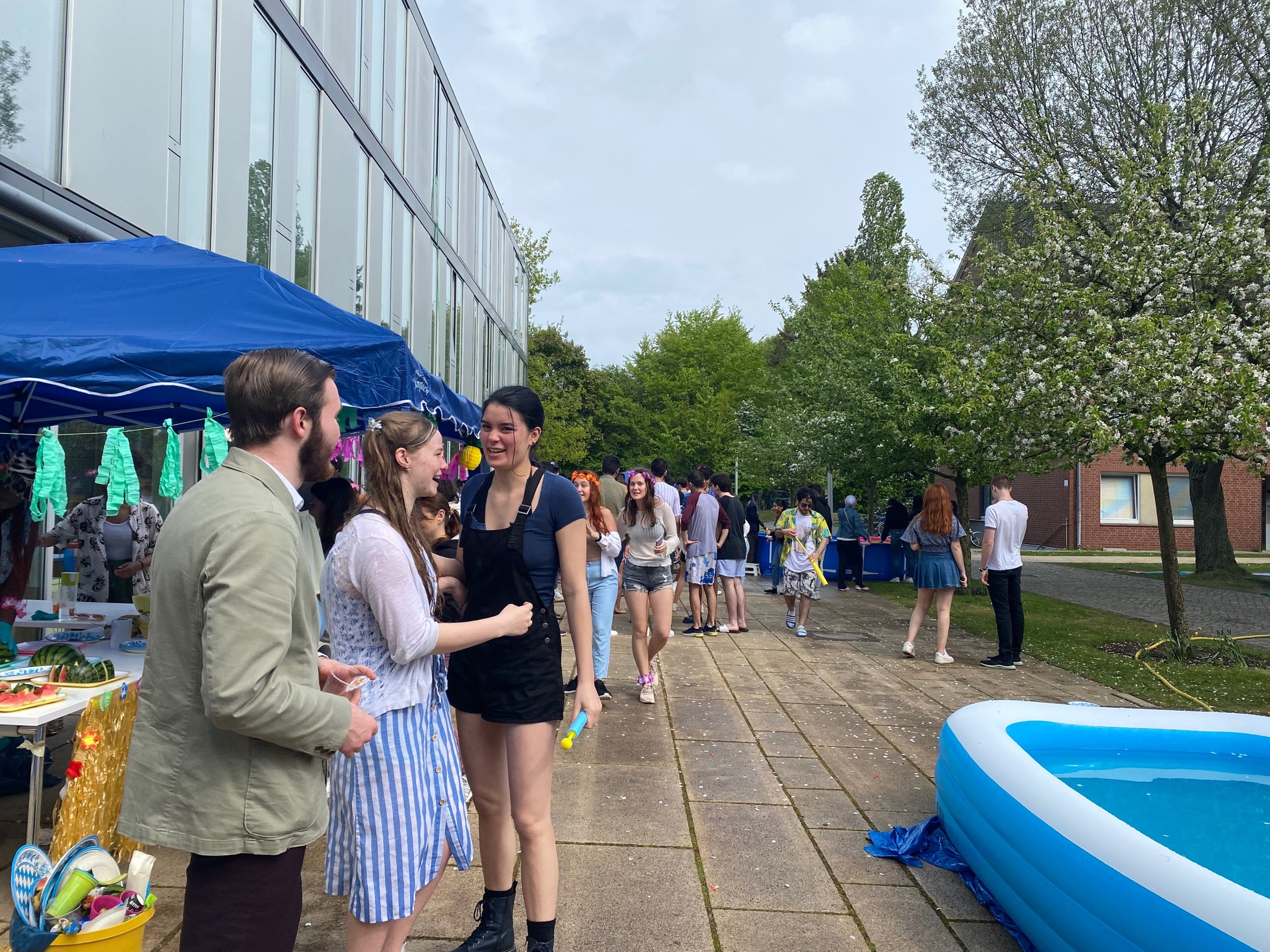 "I think the event was an utter success, I think everyone really liked it. My favourite part was when people started dancing closer to the speakers. I had the opportunity to be a DJ for one hour which was really fun. I played Latino songs and Brazilian songs, which were a bit different. I also loved seeing everyone splashing each other in the pool," Bruno said.
Mercatorstraße was bittersweet for Bruno, as it was his last big event working with the Mercator College Office.
"I'm about to leave the CO, these are my last two weeks. I really liked the opportunity to help the community in concrete ways to relax. There can be a lot of tension and stress that we go through so the possibility of actually offering these events, being here in office hours, meeting lots of people, talking to them was really the highlight for me," Bruno reflected.
To students not sure how to get involved with their college community once they arrive, Bruno offers these parting words:
"There's a space for everyone, especially in the CO. Even the silence is appreciated. The most important thing is to be present, be there, and things develop from that. We have a lot of people here who are super shy. Everyone found their group at the end and a way to engage with the community.
BY KENNA ROSALIE HOWORTH (USA) | CLASS OF 2023
Image