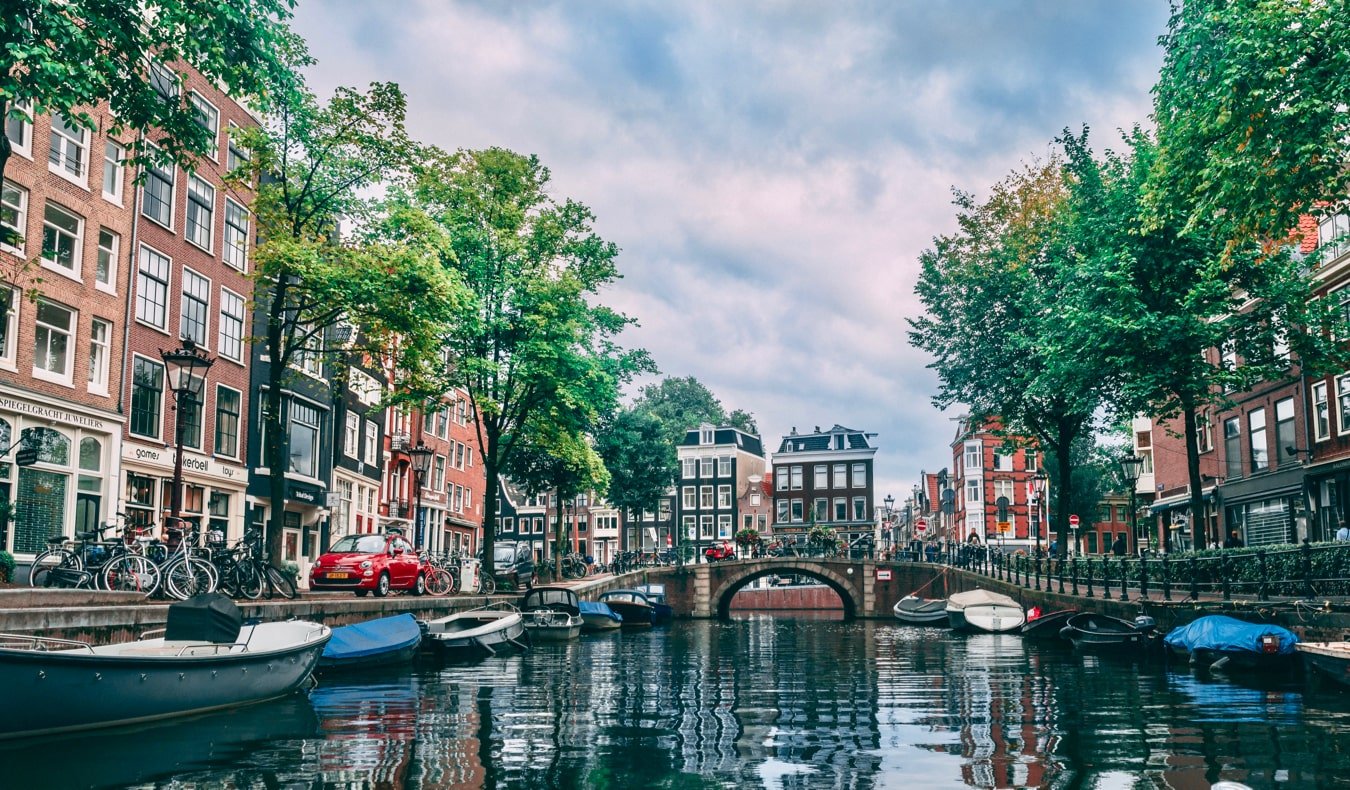 When I first was admitted to Jacobs in 2019, I dreamed of travelling around Europe given Jacobs' central location. However, it wasn't in the cards for me as COVID paralyzed travel from 2020-2021. As more people get vaccinated and masks are mandatory, I finally feel safe travelling so my boyfriend and I decided to spend a long weekend in Amsterdam! I had never been to the Netherlands before so this was a completely new experience.
We decided to take an overnight FlixBus on Thursday from Hamburg, arriving bright and early on Friday morning in Amsterdam. It still shocks me that in Europe, you can be in an entirely different country in just a few hours and for less than 30 Euros! We made our way to our hostel, ClinkNOORD, just five minutes away from the city center by a free ferry. The hostel was perfect location wise and also had a lot of nice common spaces including a little cafe. I will definitely be staying there the next time I go to Amsterdam. After we dropped off our bags and freshened up a little, we wandered the nearby streets. Desperate for breakfast, we found a quaint and cozy bakery and enjoyed amazing flakey and buttery croissants. Already, I was bombarded with culture shocks from living in Germany for so long. The first surprise was speaking English with the waitress, it seems like English is practically the first language of Amsterdam. This was a nice break for my mind for a weekend but I also felt grateful for my own "studying abroad" experience. I couldn't imagine how any foreigner could learn Dutch or get a feel for Dutch culture in Amsterdam – they would just switch to English in a heartbeat. I like that Bremen is a multicultural city but also is very much still German, making you connected to the country's authentic culture and communities. In an emergency, there are always people around who speak English but you can also improve your German. Another jarring moment was not being able to pay with cash – my German boyfriend practically had his mouth hanging open in disbelief. In Germany, "cash is king" but everything was cashless in Amsterdam. The cashier said this was apparently a newer development. 
Our first stop of the day was the Albert Cuyp Market, which has been around since 1905 and claims the title of "the biggest market in Europe!" It lived up to the name with stalls as far as the eye can see and every food imaginable available. We treated ourselves to gourmet grilled cheeses as a lunch break. After lunch, we browsed the countless vintage or second hand boutiques along the street. Of course, a trip to Amsterdam wouldn't be complete without sitting along the canals. The weather was sunny (albeit cold) and it was a dream come true for me. I loved just people-watching and enjoying the city sights with warm coffees.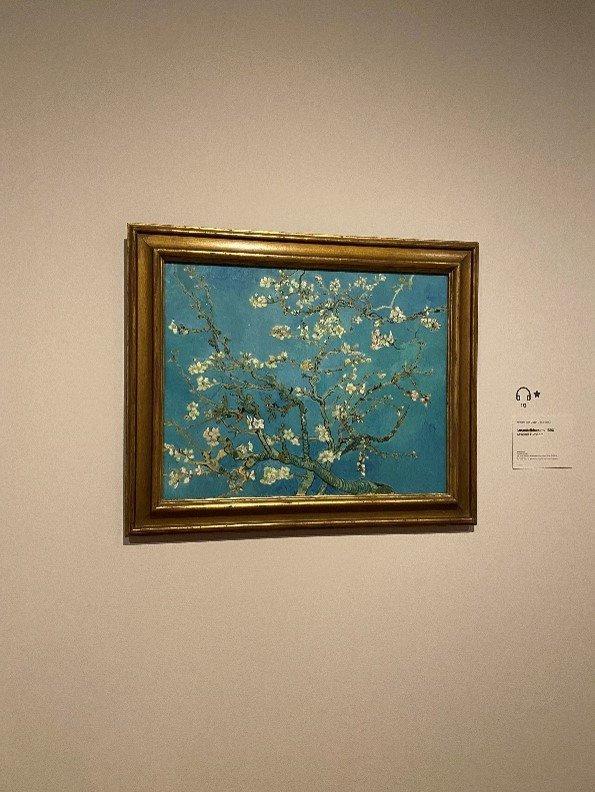 We ended our afternoon at the Van Gogh Museum. The museum was not that big, just three floors, so we got to see every painting by Van Gogh currently on display. We spent around an hour on each floor. I strongly recommend getting the multi-media guide for the full experience, it gave a lot of context into what was happening in Van Gogh's life and why he created certain paintings. As someone who enjoys art but has never studied it, there's a lot you can miss at first glance but the multi-media guide made me feel like an expert by the time we left. I liked seeing the classic paintings like "The Bedroom" or "Sunflowers" but I also discovered a new favorite -
"Almond Blossom". This was the last painting we saw in the museum, and it brought me to tears hearing the story behind it. Shortly before Van Gogh died, he painted it in honor of his newborn nephew who would later become the founder of the museum! I thought it was so tragic but also hopeful that though Van Gogh was seriously struggling at the time, he loved his family so much that he would paint such a beautiful masterpiece all for them. 
That evening, we ate at the "Vegan Junk Food Bar," which was a lot of fun for me as a vegetarian. I ordered the vegan rib burger and we also got fries and vegan chicken wings to split. It was unbelievable how realistic and delicious the fake meat tasted. They also had a fun pink and black theme, which was even put into the burger bun. It was a great and unique place to go, especially if you don't eat meat.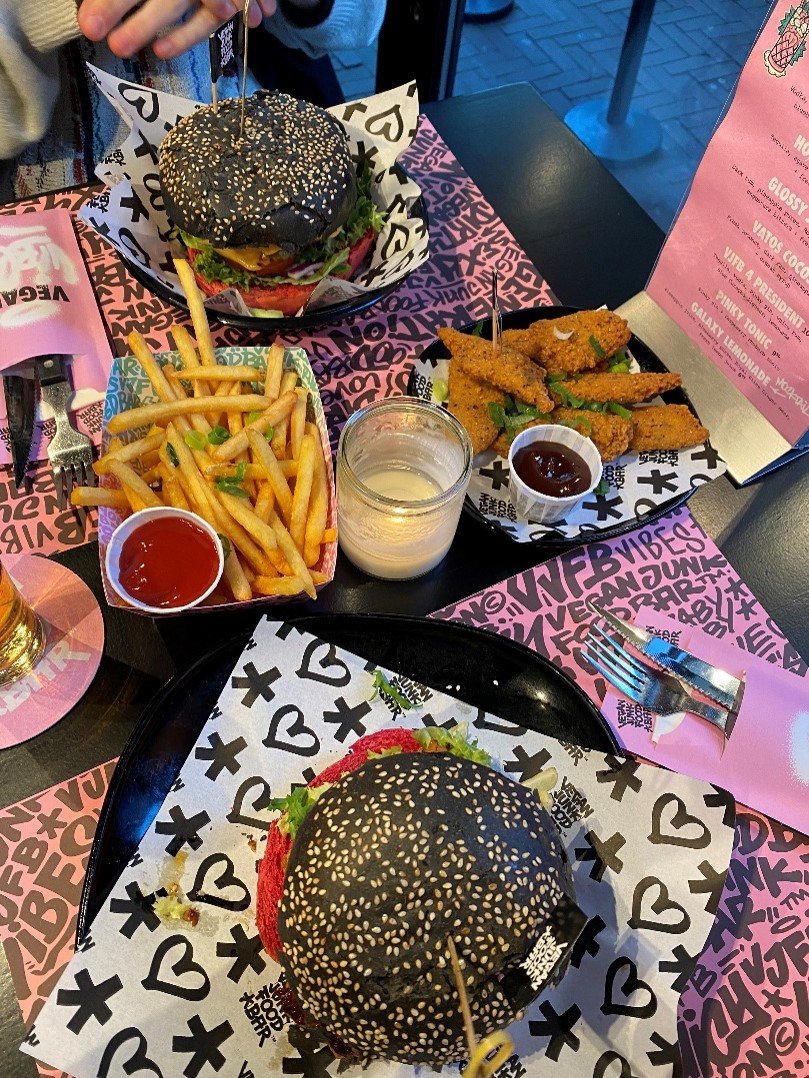 I also was pleasantly surprised to find that sparkling water and drinks are not the standard, unlike in Germany! I might be considered insane for saying this but I can't stand sparkling water, the classic drink in Germany. After eating, we walked back to the hostel and it felt like we were walking for forever. Amsterdam is definitely a walkable city and even more so, a city to bike around. In Germany, everyone owns a bike and they are used very often but Amsterdam took it to the next level. The bike lanes were just as full as the ones for cars and you really have to look out for cyclists when you cross the street. 
The next morning, we had breakfast at Omelegg, a specialty omelet place. Don't be discouraged by the line along the street - we were seated within 10 minutes of waiting. This was the perfect brunch place as the portion size was so big. The atmosphere was very lively and the staff were friendly too. The food was incredible and reasonably priced. I ordered the Greek Wedding omelet with feta, onion, sundried tomato, olives, chives, and oregano. It came with a side of amazing black bread. As my boyfriend and I are English, we also ordered baked beans for our bread. In retrospect, this was the best place we ate at from the whole trip.
We spent hours browsing the countless English-only bookstores. My primary hobby is reading so I returned with around 10 books from the trip. We went to the Book Exchange, which was filled with secondhand books from ceiling to floor. It is a little disorganized but I came across some hidden gems.
I also liked browsing the Waterstones, as there aren't any in Germany. However, the books there are a bit expensive. The best bookstore I came across in Amsterdam was The American Book Center. I loved the interior design as there were long, black spiral staircases all throughout the store. It had three floors and countless genres. The bargain sections were great with some newly released or popular hardcover books for just 8 Euros. Plus, students get 10% off! My boyfriend practically had to pull me out of the store.
One of the reasons I came to Amsterdam was to visit the Prostitution Information Center and go on a walk and talk tour to do background research for a paper I am writing in my History of Globalization class. The tour was informative and completely changed my perspective on this profession, so I strongly recommend going if you have the time and interest.
Finally, we went to the Anne Frank House. One important thing to note here if you are planning on visiting: book your tickets as soon as you can! The museum was very busy and we almost didn't get tickets despite being two weeks in advance. We also booked a half-hour long information session before entering the museum, which I think was definitely worth going to even if you study history like me. The session explained all the basics of Anne's life which I knew from reading her diary and studying history; however, it also gave the Dutch perspective and context to the Holocaust and World War II that I had never heard before. This is also the only place in the museum you are allowed to take photos, as pictured below.
The museum was very somber and heartbreaking. I first read Anne Frank's diary when I was 13 and again before this trip when I am now 19. It was surreal to see the rooms she lived in and to picture all the events that took place there as she described them. The museum also featured a lot of video clips from the time and interviews with Otto Frank, Miep Gies, Hannah Goslar, and others who were close to Anne. I think everyone should go to the Anne Frank House at least once, as Anne's life and her words are so vivid and touching. Her story is also representative of an extremely important part of history that should never be forgotten. 
All in all, my trip to Amsterdam was one of the best experiences of my life. Seeing as it's so close to Jacobs, I definitely plan on taking more long weekends here in the future. I loved the canals, the bustling city life, the food, the sunny weather in springtime, the incredible art, the history, and everything the city had to offer. 
BY KENNA ROSALIE HOWORTH (USA) | CLASS OF 2023
Image