It goes without question that this year's Microsoft Imagine Cup winners are incredibly talented, innovative, and remarkable individuals. With the aim of targeting the rehabilitation of those suffering hand paralysis, Ramin, Zain, Faria, and Asfia all played pivotal roles in the development of their final exoskeletal model to showcase at, and later win, the 2022 annual Microsoft Imagine Cup.
Microsoft Imagine Cup is a global competition hosted annually comprising students from all over the world with the primary goal of utilising technology to change their communities for the better. This year marked the 20th anniversary of the competition, making it no stranger to technologically driven students looking to make an impact on the world. The competition effectively took place starting September 2021 and recently just concluded its winners in May 2022. The competition is divided into four social categories: earth, education, healthcare, and lifestyle. It is further divided into three regions: the Americas, Asia, and the Europe, Middle East, and Africa region. Only one winning team would emerge from the competition victorious, and I'm glad to be able to say this included our very own Jacobs University students, Ramin and Zain. Together along with the collaborative effort of Zain's former schoolmate Faria Zubair in the design development and Asfia Zubair in operations and community development, the four dubbed their team name 'V Bionic' and went on to create an incredible and novel technological development in the fields of neuroscience and motor rehabilitation. With the competition came the final cash prize of USD 100,000, followed by USD 50,000 in Azure credits and a personal mentoring session with Microsoft's Satya Nadella – chairman and CEO.
ExoHeal, the world's first portable, affordable, and accessible bionic exoskeletal device, utilises foundational concepts of neuroplasticity and motor rehabilitation to further develop a pragmatic solution to those suffering from hand paralysis. Taking this incredible innovation even further, a mobile application was developed to provide easier access and communication between patient and doctor to provide interactive, gamified, and self-guided therapy through the utilisation of Microsoft's Azure technology. With over 130 million people experiencing paralysis, the four team members discovered a global need for these people to access an affordable and safe product to aid them in their recovery process. The team found ExoHeal to be 30% faster at effectively rehabilitating individuals with hand paralysis and for a fraction of the usual price: what is currently on the market stands at an expensive cost of USD 15,000, however the V Bionic team was able to drastically reduce this down to an affordable USD 1,000.  
 About Zain:
Zain Samdani, a Robotics and Intelligent Systems major studying at Jacobs, is the CEO and founder of ExoHeal. He first began developing robotic prosthetic devices in 2014, seeking to make a significant impact in his community while simultaneously applying his knowledge in practical settings. With regards to ExoHeal, he first began its development way back in 2016 after speaking with his distant uncle in India who had been suffering paralysis, unable to use even a spoon. "I empathised with him, knowing that it would be challenging to require assistance with most of his daily tasks", says Zain. He further elaborates that "each team member has had a relative or close relationship suffer at the likes of stroke to eventually face the pangs of paralysis which simultaneously affected their mental health", making ExoHeal not only a practical and groundbreaking technological innovation, but also a low-cost alternative to the standard rehabilitation which has only been made possible by empathetic and community-driven individuals such as the V Bionic team.
"I believe that everyone has the potential to use their abilities to benefit humanity. I believe that we should never stop asking questions because you never know what wonders lie in the answers you will receive."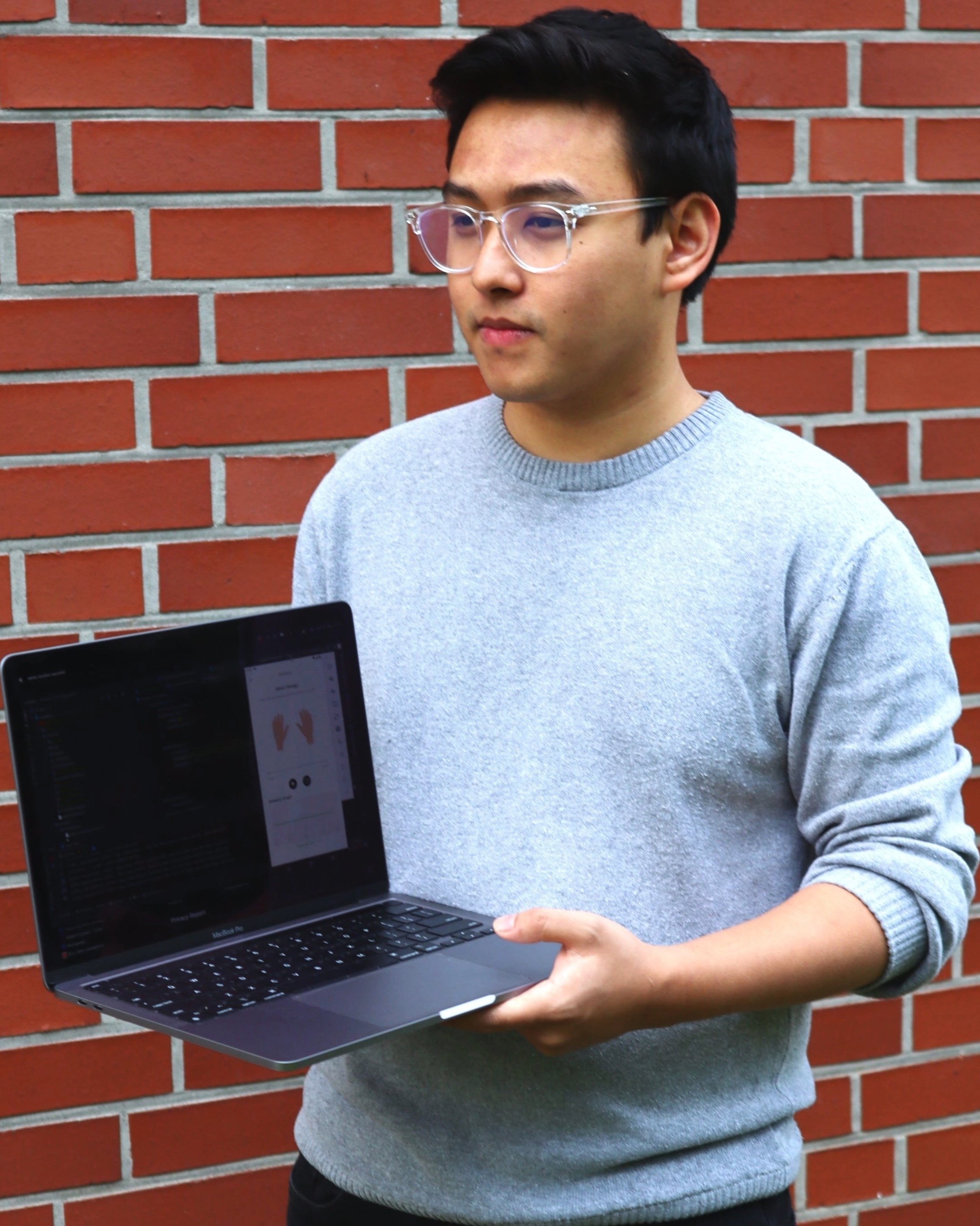 About Ramin:
Ramin Udash, a Computer Science major at Jacobs, served as the team's app developer, creating a mobile application to link data obtained from the readings of ExoHeal with an application to provide self-guided therapy as well as the relaying of the device's data to doctors in charge of patients' motor rehabilitation. Hence, the application provides ease of access through its intuitive navigation process and remote therapy: both self-guided and with the aid of doctors. Ramin began learning how to code at the remarkably young age of 12 years old. Along the way, Ramin and his team faced many challenges, most notably in the variability of people's hands and finger sizes which proved to be difficult in the development of a comfortable and natural-feeling exoskeleton which they had designed as a glove. "Our first prototype utilised an exoskeleton of a fixed size that fitted well on most hands but seemed uncomfortable with some hand sizes that were larger than that of an average adults", Ramin asserts, adding that "there was a need to find a solution that was inclusive to everyone instead of using something baseline that was common for all and disregarded minorities". Acknowledging this challenge, the team redesigned the device to include adjustable finger sizes while still maintaining its standard palm size. Thus, an effective solution was implemented to solve the fundamental issue faced by ExoHeal's original design.
"During the redesigning process, we also learned that driving inclusion means much more than creating exceptions to accommodate for anomalies."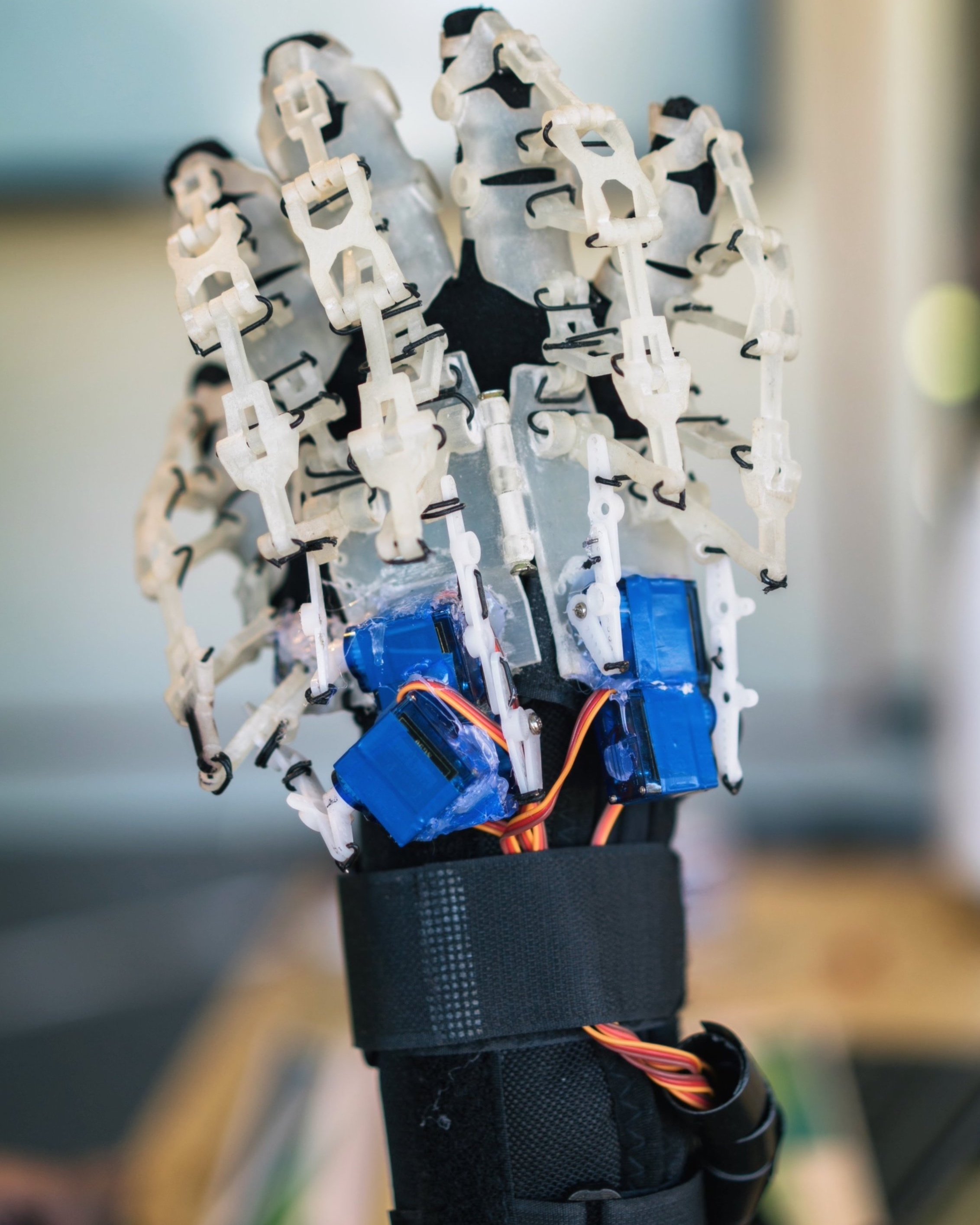 Since the beginning of ExoHeal's conception in 2016, Zain realised along the way that he needed to develop a team. Notably, a previous schoolmate of his, Faria Zubair, was determined to provide the team with her expert knowledge and experience in STEM and fashion design. She contributed greatly to the development of the exoskeleton's design, making it feel comfortable, natural, and intuitive to use for those experiencing hand paralysis. Asfia Zubair was in charge of the team's operations and community engagement, providing much-needed assistance and development in the communication and interactions between the team and those they worked with. Currently residing in Saudi Arabia, the two have contributed incredibly to the team with their enormous skill, passion, and dedication towards the project – ExoHeal would not have been what it is now had it not been for their tremendous help and development in its design and marketability.
The team has been featured on Microsoft's tech community blog as well as in Forbes and TechCrunch articles, further demonstrating just how impactful ExoHeal is to not only the Imagine Cup competition, but to the world as a whole. The team are currently developing their final prototypes to be used in further clinical trials and is scheduled to be complete towards the latter half of this year. In future, they hope this innovation will be able to further advance to the rehabilitation of paralysis in humans' arms and legs. Their initial target market is India, where there is significantly high demand for affordable and accessible rehabilitation in those with paralysis, but their journey certainly doesn't stop there. I think I speak on behalf of everyone at Jacobs when I say that these four are immensely talented individuals with a humane and ethical approach to solving a prevailing crisis in a much-needed market consisting of individuals experiencing paralysis with significant demands for essential and accessible healthcare. Congratulations V Bionic, we wish you the best in your future endeavours and look forward to hearing more from you!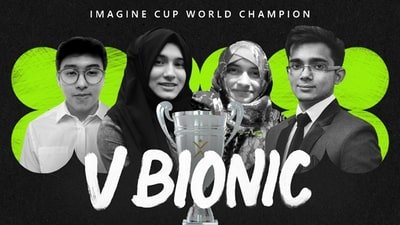 "We all resonate with the belief that we cannot recede away from the bounty of life knowing that we have what it takes to do our part and instill a better change in the world. This journey is a step towards making lives better for the disabled." 
BY KAYLA COLLETT (UK & Malaysia) | CLASS OF 2023
Image