In this article, Jacobs' blog's in-house writers, Kayla and Kenna, write about fun summer activities to do in Bremen. We hope this article helps you discover interesting places to go and events to participate in, either with friends or even as a solo day out in the sun. Happy summer, everyone!
Kayla's Recommendations:
When I first came to Jacobs University, I had absolutely no clue where to go and what to do. Since the university is quite some distance away from the Hauptbahnhof (central station), venturing into the city in search of good restaurants and stores to visit felt very daunting. Until one day, when the Asian in me had been desperately craving bubble tea for about a month straight and decided to give in by paying a visit to a bubble tea shop that everyone at Jacobs was raving about. Along the way, I discovered really interesting shops, street art, and was mesmerised by the surrounding architecture and environment. I found such gems in the area and wanted other people to experience the same fun as I first did, so here's me sharing some really interesting places for you to visit in Ostertor, Viertel, just a few minutes' tram ride from Hauptbahnhof!
Directions:
Getting there is super easy: once you arrive at the Hauptbahnhof you can either take a 20-minute (1.5-kilometre) walk to Ostertorsteinweg, or if you find that Bremen weather is once again not in your favour you can take and choose any one out of the three trams that stop at Am Dobben – about an 8-minute walk away from Ostertorsteinweg. 
Places to Visit:
Along the Ostertorsteinweg there are a few shops that are super interesting to browse through. The stereotype of the "broke college student" certainly runs true, so instead of actually buying anything I find that it's equally as fun to just window-shop. Here are a few places you can stop by on the way for a quick browse or short visit: 
1)    Coffee Corner
On a beautiful spring or summer day, pay a visit to Coffee Corner (which is located at the corner of Am Dobben turning onto Ostertorsteinweg) for delicious breakfast bagels, pancakes, or a cheeky chocolate cake. You are able to sit outside and drink your coffee or tea, but don't fret if tables are taken; the interior is also stunning! I'm a firm believer in taking yourself out on a day out, so this is definitely a place you can visit on your own - people-watching is an especially fun thing to do while you have a coffee outside on your own, plus there's never a shortage of people taking their dogs out on a walk so that's definitely a bonus!
2)    Titus Bremen
Located right next to Coffee Corner is Titus Bremen, a skateshop that also sells really cool streetwear. I happened upon this shop completely coincidentally while on my way to get bubble tea from further down the road. I passed by the window and the skateboards and clothes inside immediately caught my attention: "I have to check this out!", I told myself, and was not disappointed. Featured inside the shop are super cool skateboards and related products that are all manufactured and sold by Titus themselves. They also sell hoodies and graphic tees, some of which are branded but others are once again originally designed by Titus. What really caught my attention, though, were their roller-skates! With cool designs, the roller-skates were also relatively affordable considering their quality. I left the shop empty-handed but promised myself I would revisit one day to buy those rollerblades! 
3) Cinema im Ostertor
I've never visited this cinema but have wanted to for quite some time. Cinema im Ostertor is Germany's first arthouse cinema, located in the heart of Bremen! It certainly would be such a shame to not pay a visit to this cinema over the course of your university life, as not only is the interior extremely beautiful, but it is also much different than your regular Cinemax next to Hauptbahnhof. The cinema features such interesting documentaries, and only hosts a maximum of three films per day. Notable current showings include 'Mein fremdes Land' (in English, 'My Strange Homeland') and 'Sigmund Freud – Freud über Freud' (in English, 'Sigmund Freud – a Jew Without God'). Both are documentaries, with the former telling a story about a man who had spent his childhood in Germany and whose mother is unknown but believed to reside in the mountains of Bolivia. The film documents his journey of self-discovery, battling feelings of misplacement. The latter definitely caught my eye as a psychology major however I believe it would be a worthwhile watch for anyone interested in documentaries as a whole. Filmed and produced in France, 'Sigmund Freud – a Jew Without God' is an account of Freud's life and interpersonal relationships with family and friends through letters he had written during his time. It is raw and authentic; a film not trying to give you a lecture on his psychological works and developments, but about humanising one of the most influential figures in psychology beyond just his career. Both films are definitely worth a watch, and you can check out showtimes and other details on the cinema's website: https://cinema-ostertor.de
4)    Boba & Friends
Here we encounter our final destination! Boba & Friends is located a little further down the road and has such nice bubble teas. Prepared in authentic Taiwanese fashion, their selection of bubble teas ranges from your classic milk bubble tea to fruit teas and, my personal favourite, cream cheese topped brown sugar bubble tea – seriously, I know it sounds a little strange, but this is to die for! I challenge you to try it next time you visit Boba & Friends and guarantee you won't be able to tell me I was wrong. Even if you aren't a fan of boba or jelly, Boba & Friends have a wide selection of fruit teas, milk teas, and smoothies, plus there's always the option to order a drink with no boba. Perfect for a hot summer day!
I hope at least a few of these places are visited by more Jacobs students! Bremen may seem difficult because it can feel empty and boring to those who haven't yet explored the area much but pushing yourself to have a spontaneous adventure around town will reveal beautiful, historic, and unique finds that you really wouldn't be able to experience anywhere else. 



Kenna's Recommendations:
As Bremen is such a diverse city, there are tons of restaurants with food from all around the world! Many students also go to grocery stores which specialise in the imported food from their home country or region. Of course, you can always find great German food as well.
Some of my personal favourites are:
Markthalle Acht is an international food court within a ten minute walking distance from the Bremen Hauptbahnhof (central station). It is located right next to the cathedral with a nice view of the town square. In the summer, you can also eat outside. Markthalle Acht features food from Vietnam, Spain, Italy, India, South Korea, Hong Kong, Germany, Mexico, Ghana, Ukraine, and more! Despite living in Bremen for two years, I've still not had a chance to try all of the amazing food Markthalle Acht has to offer. There are also plenty of vegetarian and even vegan options available. One great thing about the food court is that the prices are generally very reasonable, with a normal dinner costing anywhere between 7-10 Euros with a perfect portion size. The environment is always bustling with energy and there is often live music playing in the evenings.
My personal recommendation and favourite is BAB'MARIA, which sells homemade Ukrainian food. I go here almost every week for my favourite food that I discovered in Bremen called Wareniki, a type of dumpling with various fillings (my typical order is potato wareniki with garlic, sour cream, and beet salad.) They also sell pierogies, pelmenis, blinis, borscht, and more, with plenty of vegetarian and vegan options for very reasonable prices. The food is so comforting and refreshing, a mix of sweet and savoury. The employees are incredibly friendly as well, making it the perfect place to practise your German. Additionally, with the war in Ukraine, it is great to support this local business and pillarstone of the Ukrainian community in Bremen, as BAB'MARIA often engages in local initiatives to give back to the refugees.

Another favourite among students is Rosali's, which sells California-style Mexican food like burritos and quesadillas. This restaurant is located in Das Viertel, a quarter which is coined among students as "Bremen's mini Berlin." This quarter is a must see for newcomers, as it has plenty of unique businesses and restaurants with lots of personality and spunk. Rosali's is classic street food. The restaurant has very limited seating so be prepared to walk as you eat. The best thing on the menu are the quesadillas, which are basically universally loved due to their stretchy cheese and perfect crunch. In this area, you can also find a lot of cultural cuisines like Indian, Thai, Syrian, Italian, Irish, Spanish, and also vegan food.
Aside from local businesses, there are also many beloved chains in Bremen. For a quick coffee and workspace, a safe bet is Espresso House. There are also lots of local coffee shops in Das Viertel. For a night out with friends, Schlachte is the way to go with Bar Celona and other restaurants nearby. A bit closer to the Hauptbahnhof are Muchos Más for tapas, Vapiano for pizza, and Noosou for ramen, noodles, and sushi.
One event in Bremen this summer is the annual Shakespeare im Park, hosted in the Bürgerpark. The festival is a week-long of Shakespeare plays performed by the Bremer Shakespeare Company. This year, there are performances of Richard III, King Charles III, A Midsummer Night's Dream, As You Like It, and Measure for Measure in German. On Friday, July 8, at 22:30, there will also be an English showing of Macbeth. Tickets are 15€ for students and 25€ for regular admission. You can pre-order tickets online at www.shakespeare-company.com or get tickets in-person one hour before the show. Another event that students love is Breminale, a free music festival where lots of DJs and bands perform. There's lots of food and drink stands as well to buy lunch. This year, it is from July 13-17th and the full program is available at https://breminale-festival.de.
If you want to lounge in the sun, there are many beaches nearby Bremen, such as the Werdersee by the city centre. There, you can swim, relax in the sand, barbecue, and read in the meadows. Lots of students take trips down to the beach and lake in Burglesum after exams or on sunny days to relax.
We hope this article has given you some new ideas of what to do this summer and hopefully, you can find your new favourite restaurant, festival, or store in Bremen!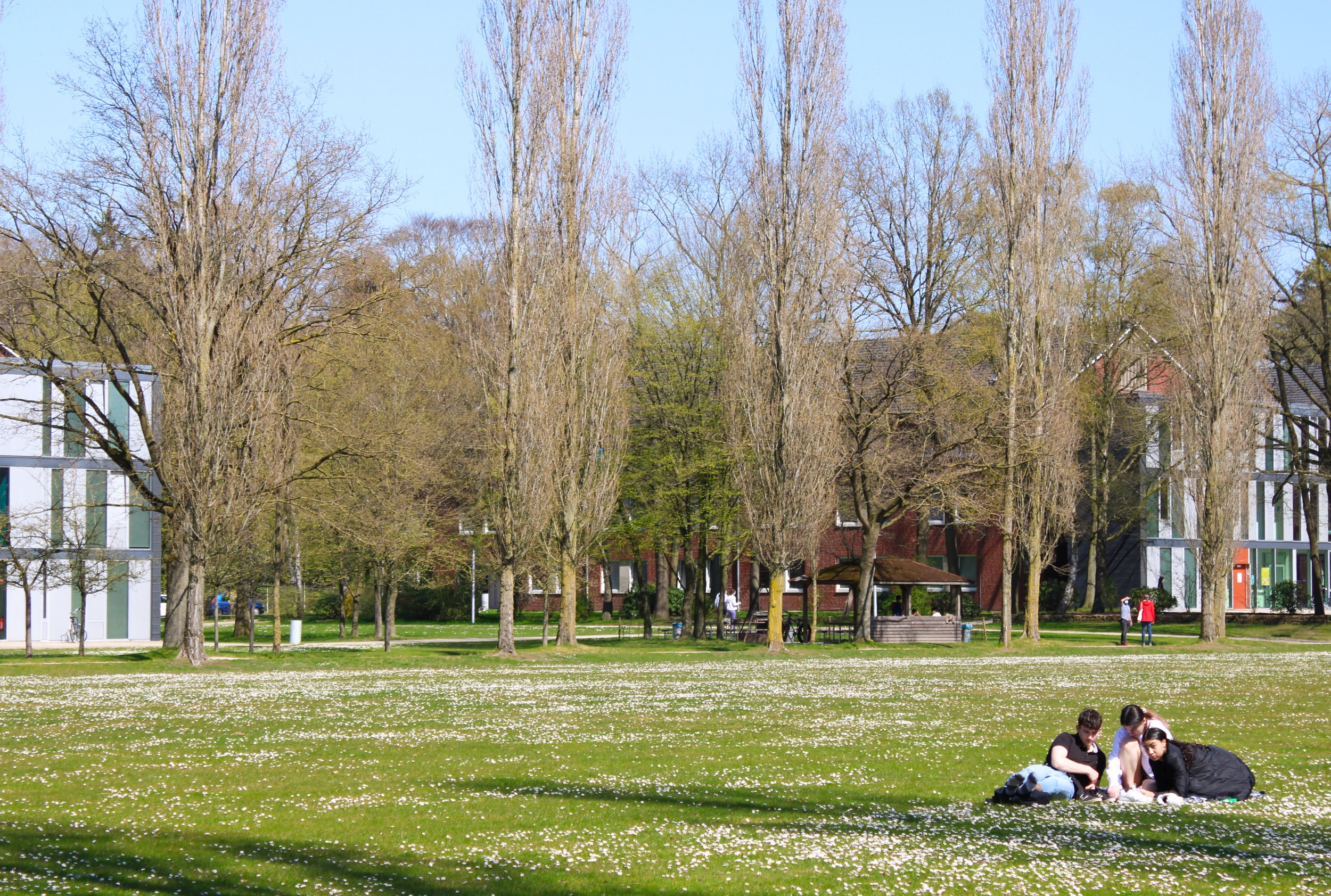 BY Kenna Rosalie Howorth (UK & USA) | CLASS OF 2023 and kayla collett (uk & Malaysia) | class of 2023
Image