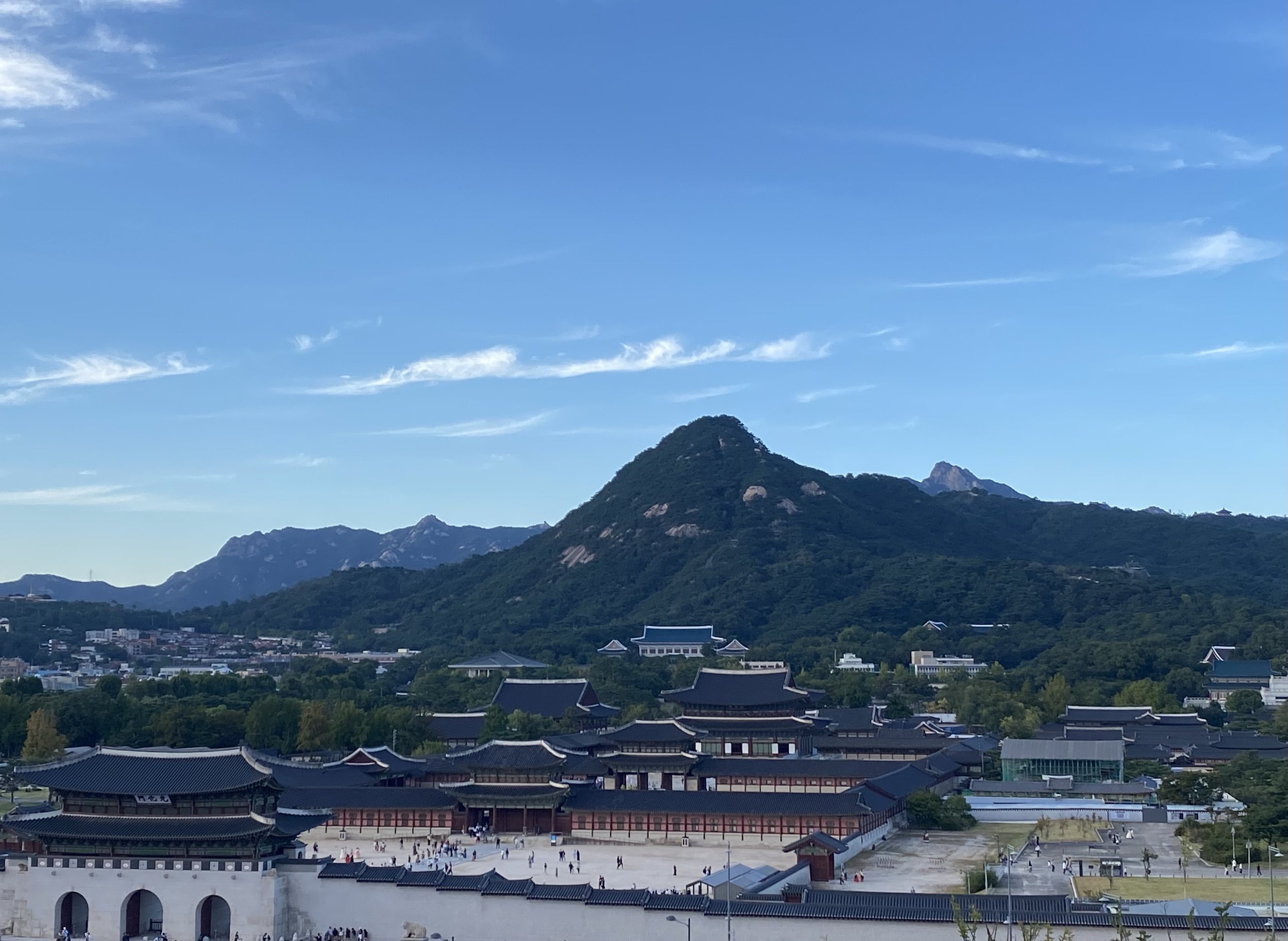 Hello! This is Kenna, writing to you from Seoul. This month, I'll be giving you a little sample of my study abroad experience by explaining what an average week in Seoul at Yonsei University is like. Some weeks I don't do much sightseeing and really just study (especially around midterms or presentations) and other weeks I am out every day exploring the city. I think studying abroad is often romanticised in a strange way as if every day is action-packed, shiny, and new. I have learned from both studying abroad at Jacobs (which is abroad to me) and Yonsei that after a month or two, you start to really settle into your host country. The fun and joy of living abroad are really found in the little everyday moments like learning a new word, trying new foods, or finally being able to navigate somewhere without a map. In time, you start to feel more integrated and normal, living just as any other person from that country.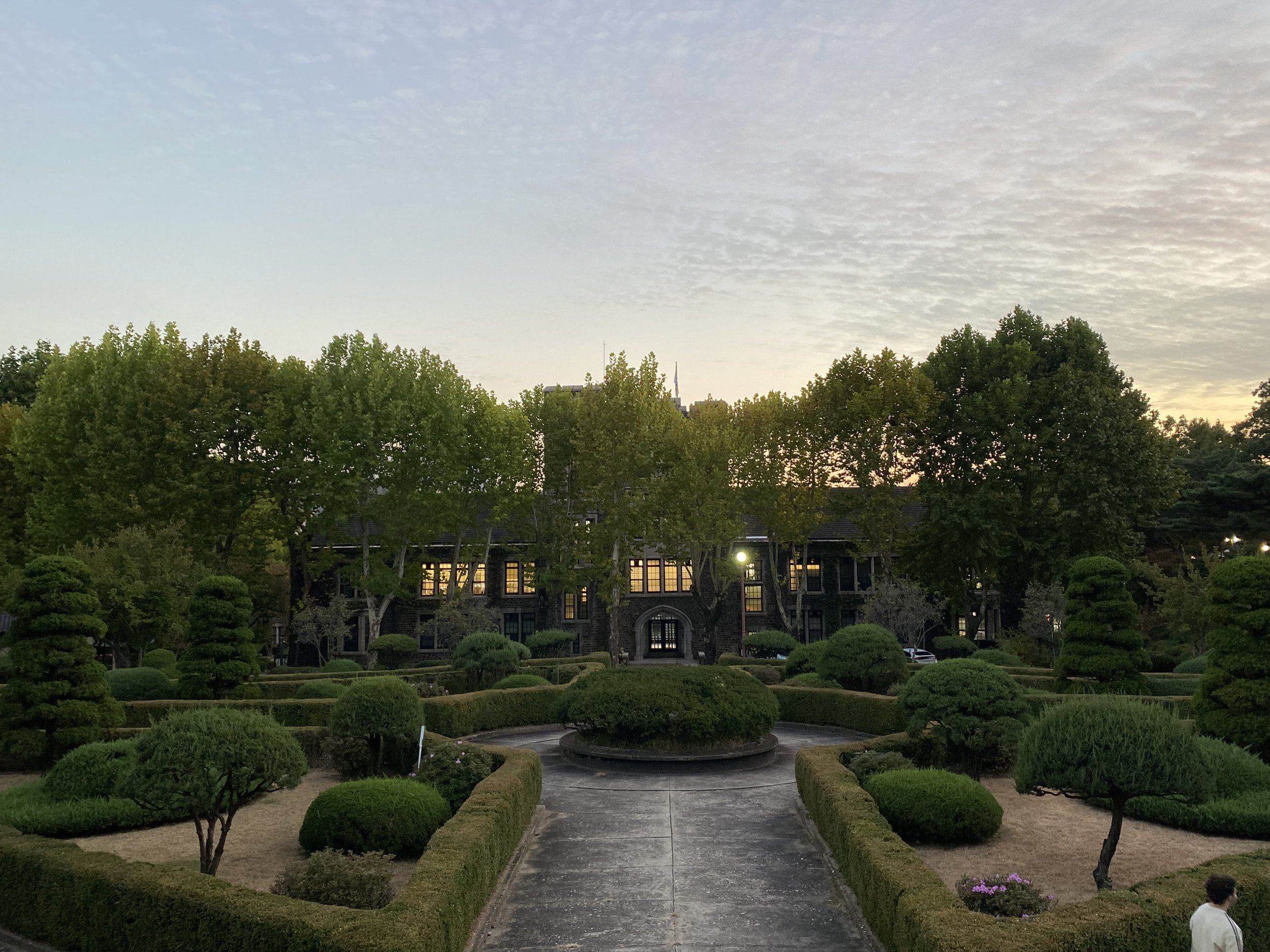 My dorm here is huge with hundreds of students and is more like a hotel than the homey, close-knit feeling of the Jacobs dorms. I share a small room with a roommate that I met on my first day here. I start by getting ready though it can be hard to dress for the weather, as it is constantly changing from cold and rainy to sunny and chilly. Then, I go downstairs to the cafe in my dorm for a coffee or other drink. I normally am running a little late after the weekend so I rush to my first class of the week, which is luckily near my dorms. The Yonsei campus is incredibly big, almost the size of a small town, so many students here (especially if they study science) have to take a shuttle bus to their classes. I have humanities classes so they are all relatively close with an 8-15 minute walk away. I have a quite large workload comparatively here with five classes, though the norm at Jacobs is more like six to eight per semester.
On Mondays, I just have one class from 11-12:50. Classes here at Yonsei are only 50 minutes long but can be stacked up to 3 hours long with breaks. My Modern Korean Society class is the most difficult as it is only for seniors and completely new subject matter for me. The professor is a little intimidating but funny, always putting us on the spot but also telling stories. Each week, we have a lecture on Mondays on different demographic issues, such as fertility rates, migration, voting patterns, religious affiliations, and economic patterns. We have two readings per week. On Wednesdays, a small group of about three students will give a 20-minute long presentation on the readings and pose questions for the class to discuss. My presentation is actually this week and is about regionalism and gender in South Korea. There are about 25 people in this class and is mostly made up of Korean students (though all of my classes are taught in English). It is not my favourite class as demographics can be quite dry but incredibly useful information nevertheless. I find myself referencing things I learned in class often in conversations about South Korea. 
In Germany, there is a law that you can only be graded on one assessment per class per semester (with limited options for extra credit) and attendance is not graded. So, at Jacobs, I normally have one essay or exam in December and May with non-graded presentations and activities in class. In South Korea, it is drastically different as each class has several grading components and attendance is graded. In this class, we have midterms and final exams with short essays, as well as one presentation. In other classes, I have to do essays as my final exam, hold presentations, submit reading responses, or just hand in my notes at the end of the year. This was an abrupt adjustment for me, especially for midterms! 
On Tuesdays, I have my Society and Human Behaviour class from 9-11:50, which is exclusively for exchange students. This class is one of my biggest here, with 70 students, as well as my longest. It only takes place once a week for just under three hours. The class is quite chaotic and unstructured but very fun. We often bond in this class over our shared new experiences, perceptions, and questions related to Korea. This class is more of a seminar-style class with lectures too. We do not have reading assignments for this class though we often analyse short texts, movies, and videos in class. Some topics we have covered so far include family and socialisation, marriage and relationships, and social media. We also often discuss current events. As the class is so informal, almost everyone participates and speaks very freely.  In between my classes during the week, I typically go to different cafes to study or do some of my hobbies such as yoga, journaling, and reading. I make an effort to go to different parts of the city each week, even just for a few hours, because I always end up stumbling upon new places I love like shops, parks, or restaurants. At 15:00, I have my gender studies class, which I was absolutely thrilled to take. It is one of my most interesting classes and my professor is very kind. The class is my smallest with about 20 students and only a few exchange students. We have two reading assignments each week and they cover a mixture of theory and practice, often about Korean cases. The class mostly consists of lectures, though we occasionally have discussions and watch movies in class. 
On Wednesday mornings, I go to my Reconciliation and Justice in East Asia class made up of only exchange students. This is always a really fun class as it involves role play and group discussions. We only have one reading per week. There are about 60 students in the class, so we were randomly divided into twelve groups of five. Each group represents the position of a state, a citizenry, or organisation relevant to East Asian relations. My group is the South Korean citizens. There is one group presentation per week, followed by an either/or discussion question about collective memory and specific incidents in East Asian history. Each small group role plays by discussing, creating a loose statement, and reporting it to the class. Then, our professor tallies the results for each side of the debate to form the class consensus. I love that this class pushes me to consider issues I have never learned about before and acknowledge all of the diverse viewpoints in East Asia and the world on these events. 
At 13:00 on Thursdays, I have my only online class, Introduction to Korean Studies. This is probably my favourite class as it really delves into the history and context of life in Korea today. I feel this class has been most instrumental to my understanding of South Korea in general and all of its complexities. Some aspects of South Korea that we have studied thus far include Confucianism, Japanese colonialism, the Korean War, the Miracle on the Han River, democratization, corruption, and nationalism. During the week, we watch a movie, read a text, and watch a pre-recorded lecture on our own time. Thursday's class is exclusively for discussion, in which our class of about 70 exchange students is divided into three groups. Our professor gives us a few discussion questions to begin with but there are also two discussion leaders per group. Then, we come together after an hour to discuss as a large group with our professor. She frequently asks us follow-up questions after our responses and makes us defend our opinions. I love that after each class, I am always left thinking so deeply about a different facet of South Korea. After that, I have my gender studies class again from 16-17:50, making Thursdays my longest day of classes.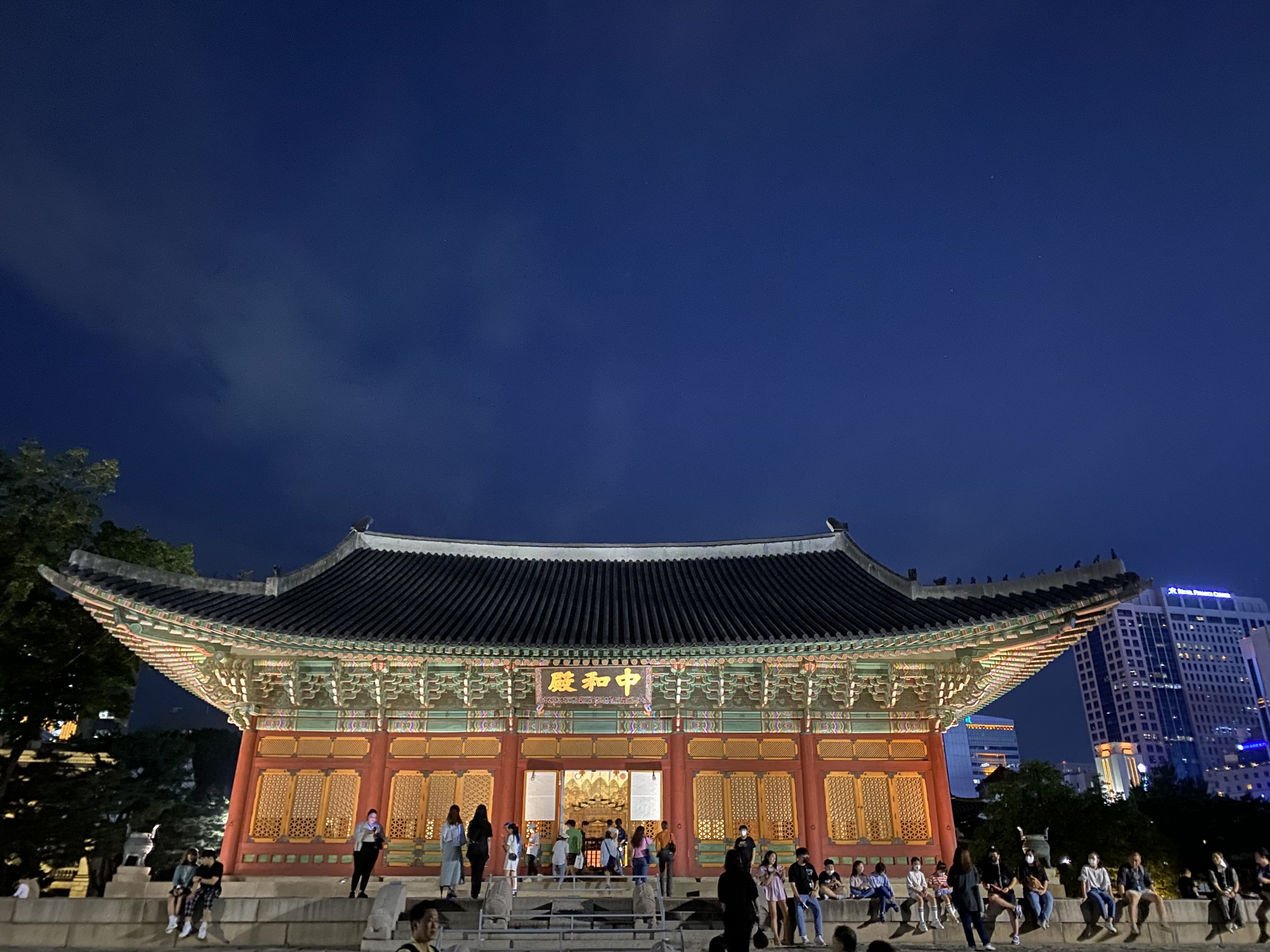 To close out my school week, I have just one Reconciliation and Justice class on Friday mornings from 9-9:50. Perfect for weekend trips! I am hoping to utilise this soon with a trip to Busan. Typically, I end up staying in Seoul though, as there is so much to see in the city. Some of my favourite places to visit on the weekends and more free school days are the Olympic Park, Cheonggyecheon, Deoksugung Palace, the National Folk Museum of Korea, and the National Museum of Korean Contemporary History. Olympic Park and Cheonggyecheon are the perfect places to relax, journal, and just watch life pass by. The autumnal colours of the park are beautiful and I love walking along the trails. Deoksugung Palace is one of my favourite underrated palaces in Seoul because it lights up at night! Some nights people play classical music live just outside of the palace walls and it is just wonderful. As a history student, I am always excited and ready to go to museums. The National Folk Museum explores many aspects of traditional Korean culture that my classes do not really discuss and they have very engaging tech-savvy exhibits. The surrounding gardens are also lovely to sit in. My favourite museum is the National Museum of Korean Contemporary History because of the excellent, informative exhibits, the perfect view of Seoul from the rooftop garden, and the bi-weekly late-night opening hours. This list is just the tip of the iceberg and it changes all the time, there's always something new to explore in Seoul!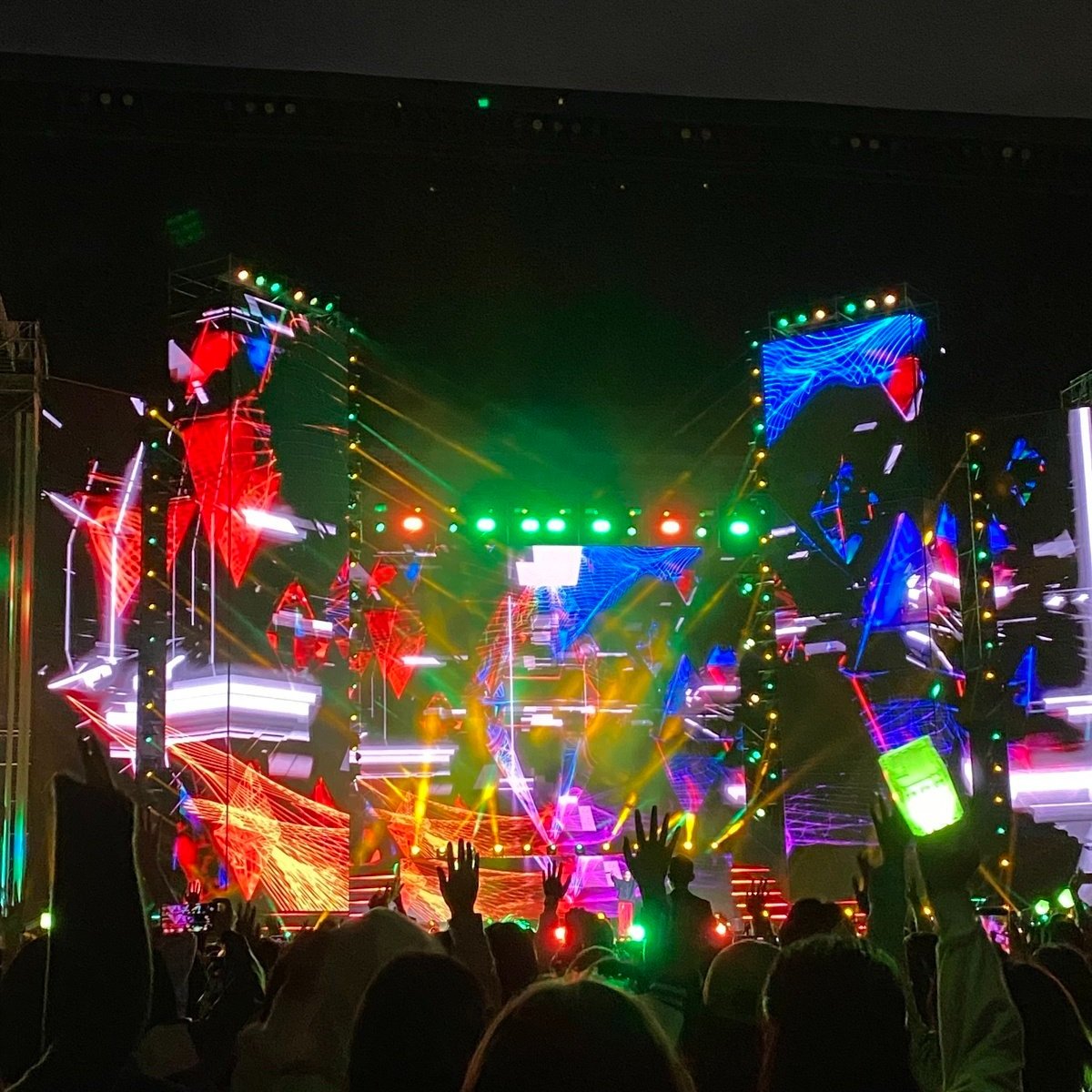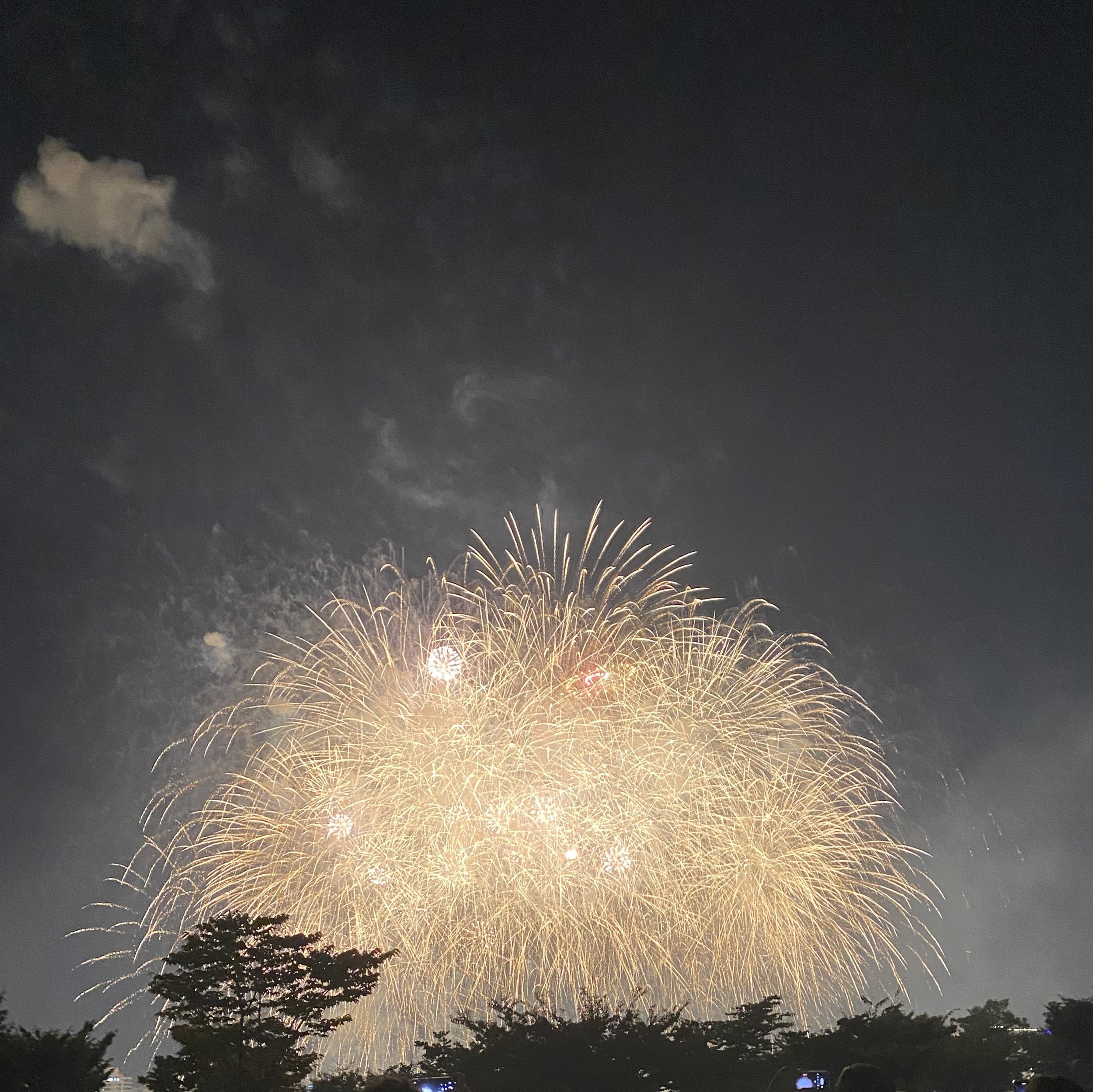 I take advantage of all the spontaneous events that are offered to us exchange students or going on in the city. In October, I got to go to my first ever K-pop concert for free at a Korean cultural festival. Some of the acts included STAYC, IVE, Zico, Monsta X, NCT Dream, and MCND. My seat was super close to the main stage and it was so much fun. The special effects and dancing were unbelievable. I discovered a lot of K-pop artists there that I love now, as I didn't listen to K-pop much before coming to Korea. I also went to the Seoul International Fireworks Festival, which was by far the best fireworks I have ever seen. It was along the Han River, making the whole show even more beautiful. Yonsei has a friendly rivalry with another university here in Seoul, culminating in a sports competition in October called the Yon-Ko Games. As a baseball lover, I went to the baseball game and it was so interesting to see the differences in the game and environment in comparison to the US. The school cheerleaders were so energetic and gave a great performance unlike anything I've ever seen. All of the students knew the cheers and songs too. 
I am now at the halfway point of my exchange, which I can hardly believe. It is bittersweet as I am definitely not ready for it to end but I also miss Germany more than I anticipated. It's funny that since studying abroad again, Germany feels more like home than ever. I still have countless things I'd like to do in the next few weeks and I am learning new things every day. All in all, this has been an incredible, life-changing experience and I hope you all will enjoy your study abroad experience, whether in Germany or again in your fifth semester, just as much as I have!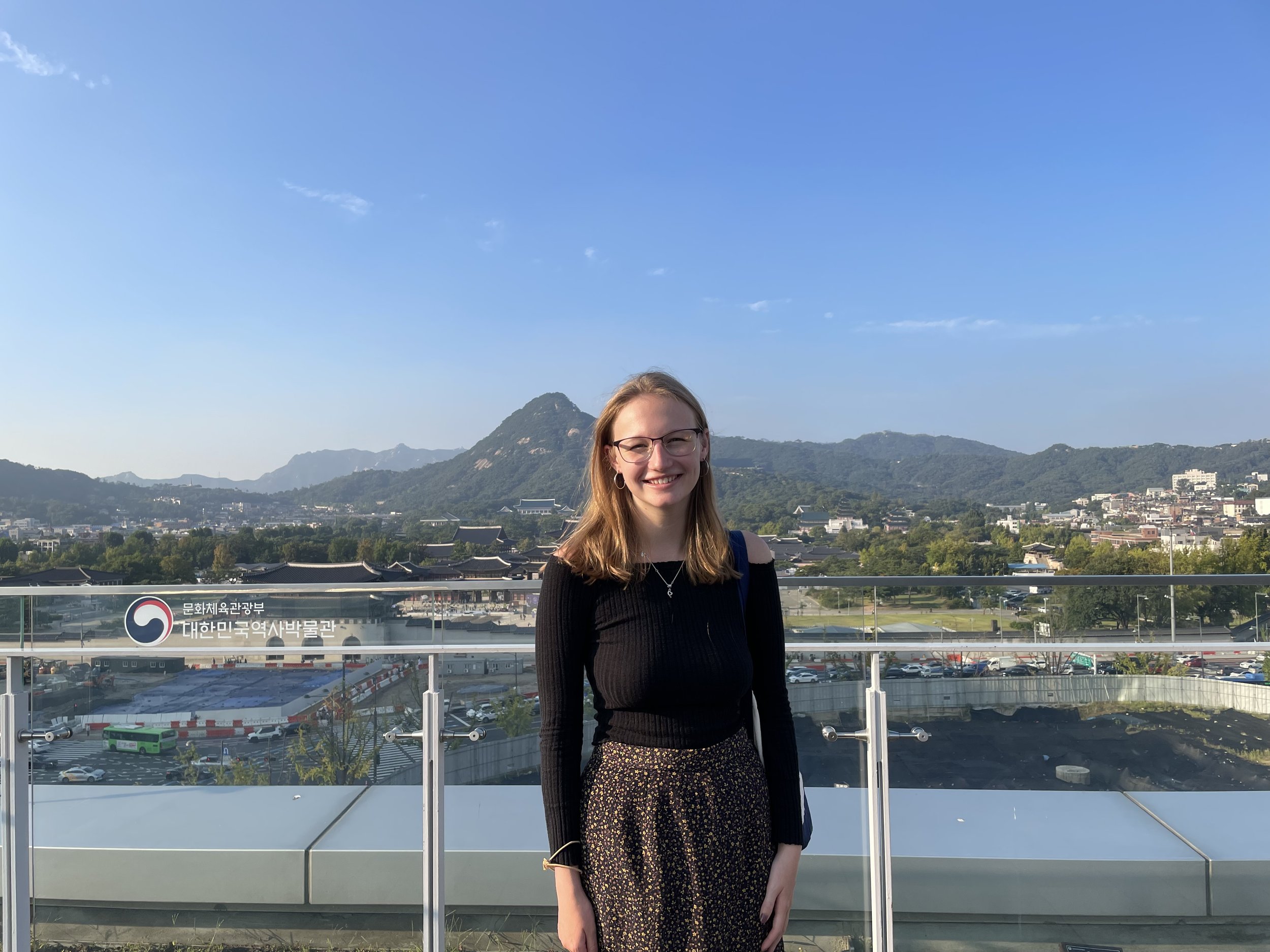 BY Kenna Rosalie Howorth (UK & USA) | CLASS OF 2023
Image